Turning in CNC machining is the process of using a cutting tool according to the design file, removing material from the workpiece when rotating. Unlike CNC milling, turning keeps the workpiece stationary and only rotates the shaft to form the finished product.
In CNC turning, CNC machines usually move the cutting tool in a straight line along the surface of the rotating workpiece, removing surrounding material, circumference until the desired diameter is obtained, to create cylindrical parts with outer contours and internal objects, such as slots, cones… Operational capabilities of the turning process include profile turning, face turning, grooving and threading.
Moriseiki lathe SL-35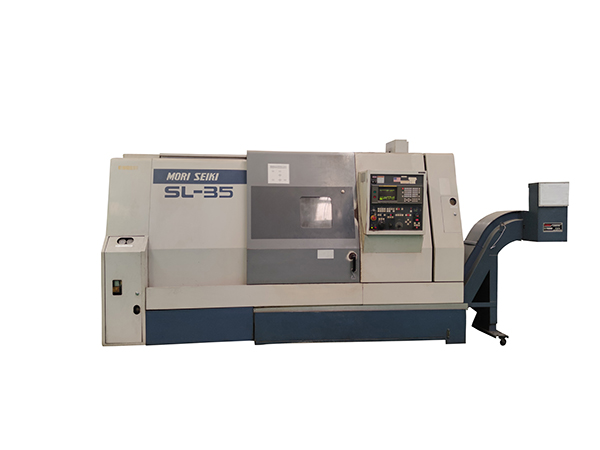 Model: SL-35
Control system: Fanuc OTC
Origin: Japan Plate
Diameter: 300 mm
Centering distance: 860mm
X stroke: 240 mm
Z stroke: 860 mm
Tool holder: 10. Automatic tool change tool
Spindle motor power: 18.5/22 kW
Machine weight: 8 tons
Dimensions (DxRxC): 3.7×1.9×2.3 m
The entire line of the Moriseiki Turning Center is a wonderful machine. Robust design produces excellent finish and reliability. Mori Seiki has used quality lead screws and bearings throughout and with a heavy-duty die-cast design, these machines are a classic profit center. Now that old Yasnac and Fanuc controllers are hard to use and parts are getting expensive and you can't find anyone to make them for a reasonable cost, so it's time for a retrofit upgrade CNC controller!
Moriseiki Partner M300L lathe
Operating system: Fanuc OMC
Travel: X: 400mm, Y: 300mm, Z: 450mm
Spindle speed: 8000 rpm
Number of ATC tool heads: 24 EA ; BT 40
Table size: 600 x 1000mm
Machine size L x W x H: 3.3 x 2.4 x 2.8
Weight: 5500kg
Two pallets (table) rotate 180 degrees. On each table you can make another element without spending time fastening the workpiece. The rotation of the table lasts approx. in 5 seconds.
The milling machine has 4 DC fully digitally controlled.
Control MSC 516 (FANUC OM)
Spindle speed Max 8,000 rpm, spindle cooling
Vertical spindle rotation speed 100 – 6000/ 1 min
Minimum spindle distance from table 3.9 in
Distance spindle max from table 22.4 in
Max. X-axis feedrate 15.8 in/s
Y-axis maximum feed rate 15.8 in/s
Z-axis maximum feed rate 15 ,8 in/s
CNC machining equipment brings high precision, meticulousness with a relatively large amount of processing. In the mechanical industry, CNC machining is the preferred method to meet the increasing demands of customers.
Lathes are used to create cylindrical parts according to drawings. Cylindrical parts or workpieces are manufactured using multi-axis CNC turning systems, equipped with CNC milling tools, to create products according to drawings. These systems, together, make CNC turning productive with CNC milling capabilities. This can result in a very large range of geometries with loose rotational symmetry, such as camshafts and radial compressor blades.
Over 20 years producing aluminum for the international market with orders exported to Australia, Japan and Europe markets. We always carry our enthusiasm and desire to bring a line of export standard aluminum to serve the domestic market. Loval is always changing and finding ways to overcome difficulties encountered in the market, so that Vietnamese people can use quality product created by Vietnamese people, according to censored international standards.
The production line is managed based on the ISO 9001:2015 quality control system. Products processed and manufactured at Loval fully meet Vietnam TCVN standards and standards for export goods.
Loval's activities are always highly appreciated by partners because of its perfectionism, precision, trust and honesty through all production orders.
Long Van Group in general and Loval in particular is one of the pioneering corporations in the aluminum industry in Vietnam. With the desire to bring the highest value to the market and contribute to the development of Vietnam's construction industry
Do not hesitate to contact Loval for the most accurate advice!
Hotline: 027.4375.8593

Address: 76 Binh Duong Boulevard, Lai Thieu Ward, Thuan An City, Binh Duong

Showroom 1: 299/1D Ly Thuong Kiet str, Ward 15, District 11, HCMC

Showroom 2: 299F Ly Thuong Kiet str, Ward 15, District 11, HCMC